Rock Hudson
From RoyalWeb
(Difference between revisions)
Line 43:
Line 43:
 
 
 

==Secondary Sources==

 

==Secondary Sources==

 
+
 

*[http://www.villagevoice.com/nyclife/0602,musto,71644,15.html Michael Musto] in the Village Voice

 

*[http://www.villagevoice.com/nyclife/0602,musto,71644,15.html Michael Musto] in the Village Voice

 

* ''Rock Hudson, His Story'', by Rock Hudson and Sara Davidson; William Morrow and Company, New York. 1986 ISBN 0688064728 [http://www.amazon.com/Rock-Hudson-His-Story/dp/0688064728 Buy it] at Amazon

 

* ''Rock Hudson, His Story'', by Rock Hudson and Sara Davidson; William Morrow and Company, New York. 1986 ISBN 0688064728 [http://www.amazon.com/Rock-Hudson-His-Story/dp/0688064728 Buy it] at Amazon
---
Revision as of 18:21, 9 August 2007
Pictures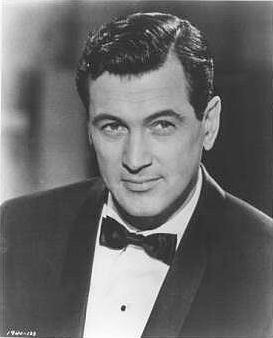 Biography
Childhood
Rock Hudson was an American actor, born as Roy Harold Scherer, Jr in 1925 in Winnetka, Cook County, Illinois, the son of Roy Harold Scherer, Sr an auto mechanic, and his wife Katherine "Kay" Wood (d. 1977). Kay was the daughter of James Wood and Mary Ellen unknown. Roy Sr left that family in 1932 and went to California. After Roy left, Kay started dating Wally FitzGerald who worked shoveling coal at the Winnetka Water Works. Kay and Wally married and he adopted Roy who became Roy FitzGerald.
Roy FitzGerald went to New Trier High School. Wally and Kay fought and he would beat her and Roy. They divorced, Kay married him a second time, and they divorced again when Roy was fifteen. Kay became a live-in housekeeper for a wealthy family. For several years they lived above Walgreen's Drug Store.
To California
"Roy Fitzgerald enlisted in the U.S. Navy in 1943 and was shipped on the S.S. Lew Wallace, a Kaiser Liberty ship, to Samar, a sandy island in the Philippines." (My Story, p42) He was shipped home in 1946 and decided to go to California because his father, was living in Long Beach. He found a job driving for Budget Pack. In Long Beach, for the first time, he met men who were open about being gay. One of these was Kenneth G Hodge. "...Ken Hodge had worked in radio for many years, producing Lux Radio Theatre. Ken was thirty-six and Roy was twenty-one...he lived in a penthouse...in the Chateau Marmont, a building owned by his Aunt Bernadette." (My Story, p 43)
Roy and Kenneth met in the Summer of 1947, together they left Long Beach and moved to Hollywood where they shared a bungalow in the hills. Kenneth worked his contacts and threw parties to introduce his protege. At one of these, Roy met Henry Willson. Without Ken's knowledge, Roy contacted Willson, they signed a contract and Willson became his agent. A short time later, Kenneth moved back to Long Beach, alone. Davidson reports that "..Roy's first check, made out to "Roy FitzGerald" from Vanguard Films of Culver City is endorsed on the back "Roy FitzGerald, Pay to the Order of Rock Hudson, Kenneth G Hodge"
Death
His mother died of a stroke in "...the fall of 1977."(His Story, pg 203)
Rock Hudson died of AIDS in the 1980s at his home in California.
Entourage
Many articles have been writen about him, but many of the people swirling around him are shadows, whose lives are only illuminated in his presence. That is, all the articles mentioning them, only mention them in relationship to him. There are a few exceptions like his agent Henry Willson or the actor George Nader, who was one of his best friends for most of his life.
See also
Primary documentation
1930 New Trier, Cook County, Illinois showing : "Raymond Scherer, 30, IL, married at age 24, Proprietor, Garage; Katherine, 30 IL/England/IL; Raymond H 4 1/12; Lloyd 23 brother, IL, Helper, Gas Station"
1930 Census of New Trier, Cook County, Illinois showing : "James Wood, 64, England; Mary E 65"
1920 Census of New Trier, Cook County, Illinois showing "James Wood, 53, b England/England/England; Mary 55, b Illinois/Ireland/Ireland; John H 22; Kathrine 19; David 18; John Anderson 34; Gustaw Shaw 42"
Secondary Sources