William Cecil, Lord Burghley
From RoyalWeb
William Cecil, Lord Burghley (1520-1598)
William Cecil was born 13 Sep 1520, the only son of Richard Cecil by his wife Jane Heckington. William was born "probably" (as Townsend and Sanford, op cit) at his grandfather's house in Bourne, Lincolnshire and christened there.

He married first in 1541, against his father's wishes to Mary Cheke, by whom he had only one child, his son Thomas. Mary died 22 Feb 1543/4 at Cambridge; and he married secondly in 1545 to Mildred Cooke, by whom he had three children: Anne, Robert and Elizabeth.

He was granted the manor of Coombe in 1552.

He was the prime minister during the reign of Elizabeth I, Queen of England.

In 1569, he was granted the wardship of Edward la Zouche, 11th Baron Zouche as Edward's father had died that year. Edward's maternal grandfather was William Welby of Moulton, Lincolnshire.

William Cecil, Lord Burghley died on 4 Aug 1598 at his house, Burghley House, in The Strand, London, England. He was buried on 29 Aug 1598 at St Martin's, in Stamford Baron.
Primary documents
Secondary sources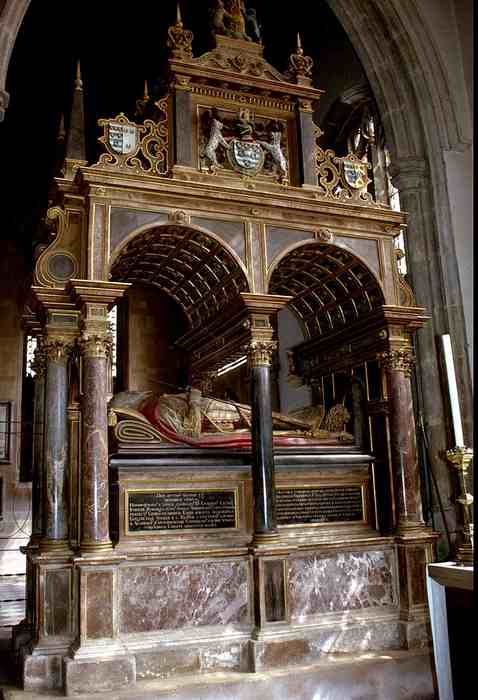 His tombstone, picture from Tudor Place
External links
See Also